Famine Irish Migrants in Ontario: The Story of Stephen De Vere and Toronto's Irish Orphans
by
irishcanadianfamineresearcher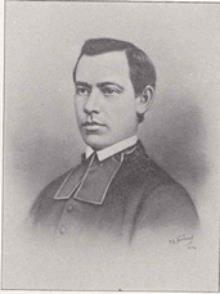 Ireland Park Foundation/Celtic Studies – Annual Lecture
November 29 at 6:00 pm

–

8:00 pm
Ireland Park Foundation and Celtic Studies at Univeristy of St. Michael's College, in the University of Toronto, are delighted to host Dr. Jason King. Dr. King is Head of the Irish Famine Archive and Researcher for the National University of Ireland, Galway. He will deliver the annual Ireland Park Foundation Lecture, on the lives of Stephen De Vere and Robert Walsh. 
In 1847, Stephen De Vere risked his life sailing with former tenants from his Irish estate in the steerage of a coffin ship. In Toronto, he wrote such an influential description of the Irish Famine migration that it shocked British Parliamentarians into reforming the Passengers Acts to protect emigrants at sea. Yet the fact that he kept extensive, unpublished diaries of his voyage to Canada in 1847 and 1848 remains largely unknown. This lecture takes the audience on a tour of famine era Toronto and Ontario as seen through the eyes of Stephen De Vere and his unpublished journals.
It also tells the stories of Irish Famine orphans in Toronto, like Robert Walsh, who studied at the University of St. Michael's College. As an Irish orphan in Canada, Robert Walsh dreamed of returning to his homeland and becoming reunited with his baby sister, who was left behind with relatives in 1847. "My sister, my dear sister, if she exists, when she would learn that she has a brother and sisters in Canada who are thinking of her she would write to them," he hoped. "We will see then we are not alone in the world, and it is this thought that will give us courage to endure our separation here." And yet, when Robert Walsh finally returned to Ireland in 1872 he was distraught to discover no trace of her, and died soon thereafter at the age of 33. The lecture recounts the search for his sister and reveals how she was finally found.
After this lecture, there will be a round table discussion between Dr. King, Dr. Mark McGowan and Robert G. Kearns. 
Dr. Jason King has recently become Historical Advisor to the Board of Ireland Park Foundation.
Free admission – no registration required
With the support of the Embassy of Ireland, Ottawa
http://faminearchive.nuigalway.ie/eyewitness-accounts/famine-orphans/robert-walsh